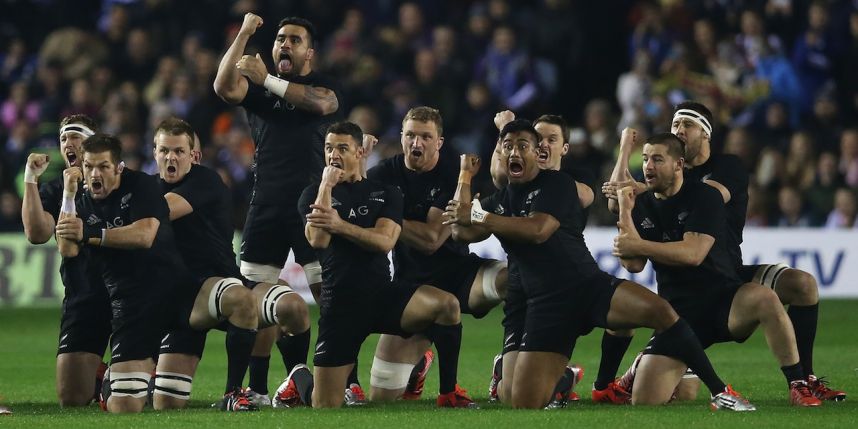 After winning the World Cup last October, the Rugby Team of New Zealand performed the 'haka' in London after they defeated Australia. Haka is a war dance that is part of the New Zealand's tradition. It is performed originally to proclaim the Maori people's power to defeat the enemies before the battle.
The video of the dance which was posted on Youtube reached more than 2 million hits. The Sydney Morning Herald wrote: "On an occasion such as this, with the All Blacks becoming the first team to win back-to-back World Cups, one Haka was never going to be enough. After going with their 'Kapa O Panga' Haka before their 34-17 win over the Wallabies at Twickenham, New Zealand celebrated in style with a traditional 'Ka Mate' Haka after claiming the William Webb Ellis Cup. The silverware was laid out on the ground in front as the All Blacks paid tribute to their fans as well as six of their departing players, including inspirational captain Richie McCaw and five-eighth Dan Carter, whose brilliant boot helped them to victory. It was an emotional moment after the All Blacks cemented their place as the best team in rugby and one of the greatest in world sport."
Meanwhile, Public Radio International (PRI) added: "The haka is generally thought of as way to spook and intimidate opponents, and New Zealand did triumph 34-17 over Australia. But
the haka most commonly performed by the All Blacks, the Ka Mate, has an entirely different meaning if you consider the lyrics. The song was composed by Te Rauparaha, war leader of the Ngāti Toa tribe, after he hid in a food storage pit to hide from his enemies.
"That certain haka is actually about being victories because the person who composed it, he was actually being hunted at the time by a rival tribe. That haka was actually a haka of celebration that he was still alive," says Paraone Gloyne, a well-known haka dance performer, teacher and composer.
Also described as an ancestral war cry, or a "challenge," haka has its own vocabulary and traditions."
The hakas performed by the New Zealand All Blacks can be viewed below: